For those of you who were unaware, my birthday was earlier this month (thank you... thank you... I'm still accepting gifts) which was one of the reasons I was inspired to post about this. I also just think that even small acts of kindness in life deserve a bit of thoughtful gratitude.

So, I don't know if it's the same for you and all of your various personal connections, but February has a LOT of Birthdays in it. We have a calendar at work that lists everyone's Birthday throughout the year, and February has, by far, the most. With all of these Birthdays coupled with Valentine's Day in there somewhere (I mean, who knows when?), there are a lot of Thanks to give out during the year's shortest month. I know that writing out Thank-You cards can be a total pain (I just got married, OH I KNOW!), but it is oh so important to make sure to give thanks when they are deserved.

Below are some ways I found to make saying Thanks a bit easier:
These Thank You Notes by Kate Spade for Papyrus ($20 for 10 online at Papyrus) are so cute, it's insane. You simply check off which phrase best describes your state of thankfulness and you're good to go! You can choose from, surprised and delighted, over the moon or thanking my lucky stars, adorable! It's probably still a good idea to write a little note in there, as well, but when you're pressed for both time and the right words, these fit the bill!
If we're talking about easy, it doesn't get much easier than sending a beautifully designed e-Thank You Card, no postage required! Paperless Post has a wide range of styles that should fit each and every occasion and, depending on the card, each one ends up costing less and $1. What a deal! You can customize many of the designs to change the color, font and message in order to truly send out a one-of-a-kind sentiment of gratitude. While I will admit that, for me, these lack the personal touch that I feel can only come from a hand-written note, but it's still better than no acknowledgement at all.
There is no doubt a more graceful way to put this, but I like to call this set 'Thank You cards for Dummies' (even though even the act of writing that makes me cringe because I literally hate those ...for Dummies books). I digress, this lovely collection of Thank You notes called A Year of Gratitude ($30, Uncommon Goods) contains 52 assorted cards (one for each month of the year) as well as tips on writing meaningful notes of gratitude, and a journal to record your experience. With these at hand, there should be no reason to not recognize someone's kindness, and you may even begin to notice occasions worthy of giving Thanks where you might not have before.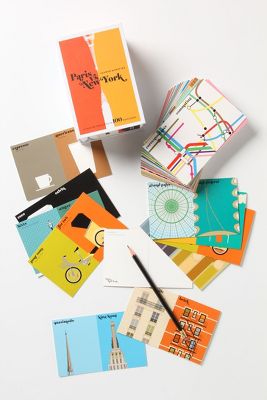 These cheeky Postcards ($13.60 on Amazon) showcase Artist Vahram Muratyan's modern and whimsical side-by-side comparisons of two of the world's most stylish and enviable cities (bagel vs. baguette, Carrie vs. Amelie, etc.). While these aren't Thank You cards per se, I think that they would still brighten someone's day with your note of gratitude written on the back. I think there is something kind of enchanting about postcards, personally. I just love them, so I would be delighted to get any note written on one of these. Not only does the medium only allow for short, sweet messages, but the cost to send a postcard is .33 versus .45 (soon to be .46), so it will save you a bit of scratch in the long run while still making those special enough to receive them feel the love!
Whatever way that you choose to say Thanks, do it from the heart, and more importantly, do it often. Every bit of generosity deserves to be recognized, and it's not that hard to be thoughful enough to dole out some praise!